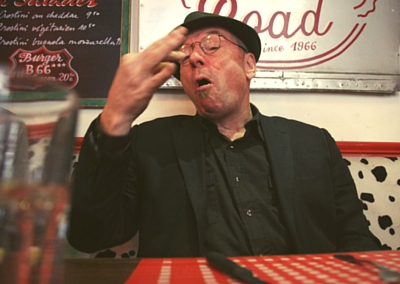 I'M HUNGRY
(Jay Ryan)
The title of the album.  I've been hungry since I was born, just ask my mother!   Hungry in the morning, hungry at night, tragedy hits-open the fridge, there's a party-light up the stove…We're all hungry too for things to change, for less inequality, for more jobs, for fewer and better politicians, less violence, for life…I'm writing "I'm Thirsty" already.  Thanks to my old friend Tyler J Barnes for his help on this one.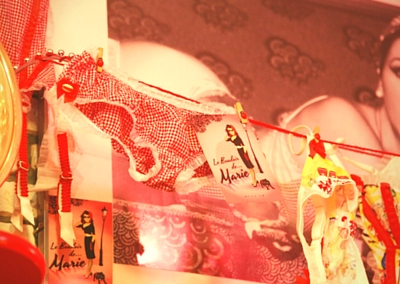 LUST FOR LIFE
(Iggy Pop – David Bowie)
When I moved to New York City I didn't even know that Iggy Pop existed (back in Austin the blues was my world).  I remember hearing this song at a friend's apartment; I thought to myself, wow, that guy is coming from someplace I've never been.  So, this is homage to that period circa 1978 in NYC where I found out what Lou Reed was talking about in "Walk on the Wild Side".  I don't think anybody has dared a version like this:  Thanks to Paul Pechnart IV on rhythm guitar (his first country song?), and Jean Yves on Banjo (his first proto-punk endeavor?).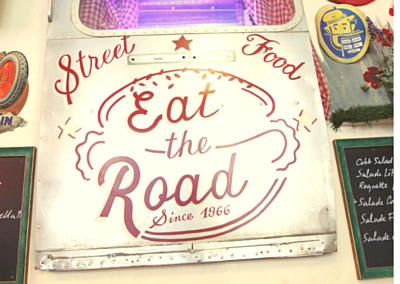 Cellblock C & Drinking and thinking about you
I met Jack Clack a couple of years ago at an open mike gig in Montreuil. He's a Taxi driver writer and singer songwriter from Chicago. Now you might ask, how does a guy like that end up in Montreuil?…good question which you'll have to ask him yourself! One night he sang some of his songs, I said to myself," why not ask him if I could use one or two on the record?" I think these are great songs, I hope I do them justice. Jack has plenty more waiting to be heard.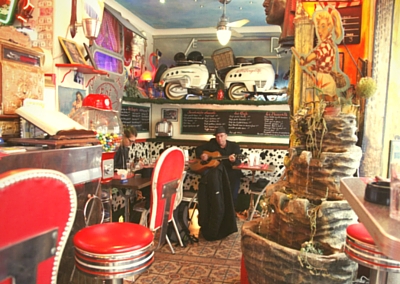 LIGNE 13
(Jay Ryan, Marie-France Floury)
Paris's metro line 13 has a bad reputation; now it's got a song.  I took the line for seven years morning and night.  I saw and experienced hundreds of stories….here are some of them in a boiled down Parisian "chicken pickin" session. I wrote the song in English and Marie France Floury translated it into French and added some of her own lyrics.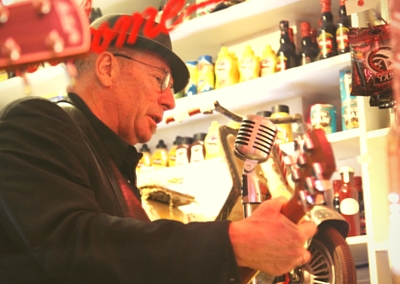 C'EST COMPLIQUÉ
(Jay Ryan, Paul Péchenart)
I have been living in Paris now for over 30 years. I discovered while writing these songs that my ideas were coming in French, but I, well, have a hard time really expressing myself in the language of Moliere…Paul Pechnart III to the rescue! He came up with a French rock song I turned it into an R&B number, which was then "Stray Catted" by Marco Dimaggio. C'est Compliqué!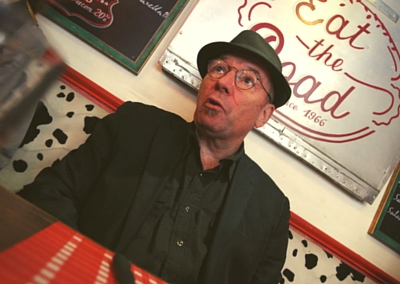 JE T'AIME
(Marie-France Floury)
For those who heard the first album "Dutch Oven" you'll recognize this one, it's on there too!
Marie France Floury always thought that the song was interpreted too slowly on the last release, so Paul & I thought, well let's do it again…Danny Vriet plays great Cajun fiddly on it which captures the spirit of the track.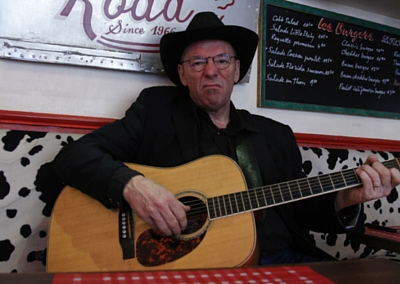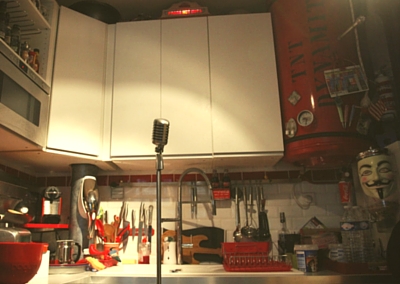 FOUR IN THE MORNING BLUES
(Jay Ryan)
One early morning at 4am around 1985, Paris suburbs I was coming home from a gig with the Bruce Koening Band.  We were taking our gear out to Gennevilliers.  Somewhere out there we came across a bus stop and it was like a dream, there were about 20 men of North African origin standing under a streetlight at the bus stop waiting to get picked up to go to the factory.  There was nobody but them in sight…it has stuck in my mind for more than a quarter of a century.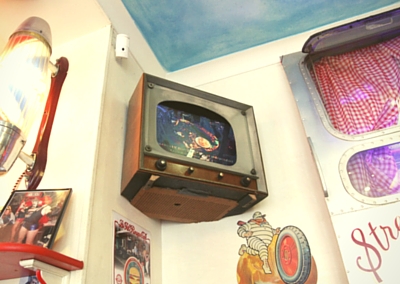 TRANSCONTINENTAL SHUFFLE
(Jean-Yves Lozac'h)
It's a pedal steel song I love pedal steel guitar so I asked Jean Yves if he wanted to include his song on the album. It's named after the Transcontinental Cowboys a band that both I and Jean Yves played in the 80's and 90's. We were already playing the song back then. Listening to Marco Dimaggio's solos you'd think he's a frustrated steel player.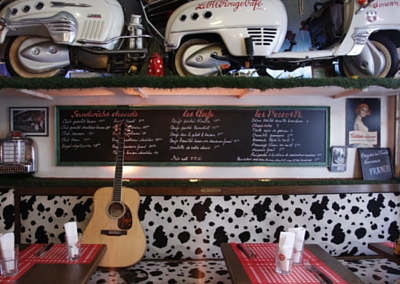 IN THE PINES
(traditional)
This traditional song has been performed by white and black musicians for the last 75 years.
This take, thanks to Marco's guitar takes us into a David Lynch world of horror and suspense.  We are a long way from the Delmore Brothers but that's alright by me.
J'AIME PAS LA RENTRÉE
(Marie-France Floury)
What teenager never felt like throwing his books out the window?  What person can't relate to "You can take this job and shove it", once in their life?  Marie France's ode to teenage personal insurrection.  I have to modestly admit that I was thinking of Cash & Carter's "Jackson" for the arrangement.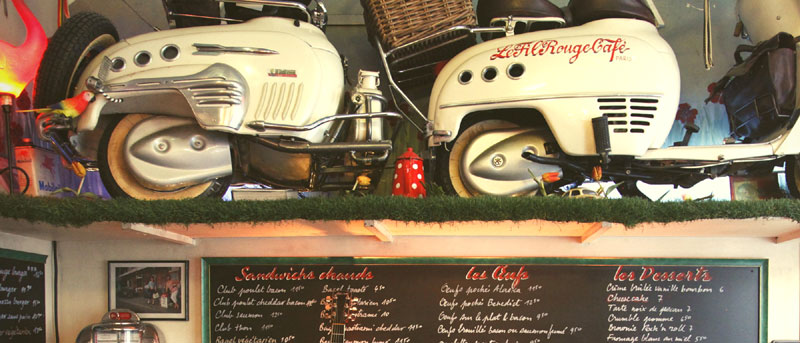 Credits
Jay Ryan: lead vocals, acoustic guitar (6)
Marco Di Maggio: guitars
Matteo Giannetti: upright bass
Marie-France Floury: vocals
Danny Vriet: fiddle
Jean-Yves Lozac'h: pedal steel guitar, dobro
Paul Péchenart IV: guitar (2)
Paul Péchenart III: background vocals (10)
All songs are published by Éditions AMOC except «Lust For Life» by Tintoretto Music – Fleur Music (GB1), «In The Pines» is a traditional American folk song
Produced by Juste Une Trace
Artistic Direction by Marco Di Maggio

Recorded by Marco Mattia Robbiani & Alexandre Mazarguil

Mixed and mastered Marco Di Maggio
Photographs by Joanna Borderie
Logo by Mark Weissberg
Artwork by Céline Cuvelier
Thanks to my fellow travellers:
Tyler J.Barnes, José Jeanrot, Paul Bessone, Edith Gaudy, Antoine Sirven, Vittoria Biagini, Gianmarco D'Agostino, Bernard Rousseau, the students of IMM, Le Vieux Marché de St Ouen, David at Le Fil Rouge Café
« Botta said : I'll be right back… He returned with a frying pan full of sausages and beans, they had no choice but to open another bottle of wine.» – Marco Vichi.